A Modern Day Man's Guide to Valentine's Day:
For Soul Mate or Friend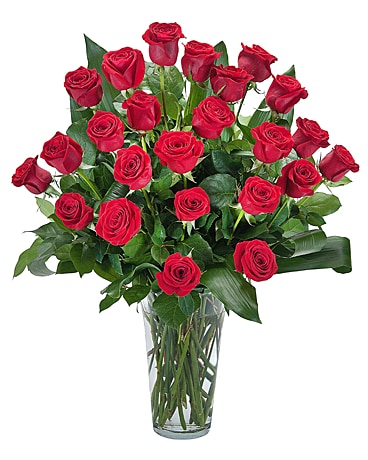 Why do we celebrate St. Valentine's Day on February 14th, and where did the idea come from to give flowers, candy, and gifts to others on this day? How do you know what's appropriate? We think it's safe to say that most of us appreciate being thought of by someone else; whether it be a potential love interest, or a friend. This is especially true when the gift-giving seems to be going on everywhere we look during the first 2 weeks of February. It might surprise you that the holiday has not always been a celebration of romance and friendship, and that the methods of celebrating have changed over time.
The holiday of Saint Valentine's Day was first established in 469 AD by Pope Gelasius I. to commemorate the life of a Christian martyr named Valentine who was killed on February 14 th , 300 years prior. As legend tells it, two other Roman saints named Valentine were also killed on February 14 th . Nearly 900 years later, it is believed that the holiday took on a distinctly romantic flavor, mostly due to the influence of Geoffrey Chaucer, and his poem "The Parliament of Fowls". According to Dartmouth English Professor, Peter Travis, "This dream-poem by Chaucer explores the ideals of cosmic order, political order and erotic desire, where nature encourages all her birds to choose their appropriate mates. The poem ends with a song praising Saint Valentine, providing promise that, even in the depths of winter, summer is not all that far off." The trends that followed were a sign of the times. The 1700's brought about Valentine's cards. These cards were handmade, adorned with lace and ribbon and exchanged between lovers. Victorian culture in the 1800's began the tradition of giving flowers--Red Roses in particular--like we do today. Red Roses were the symbolic flower of love. This is also when other colors of Roses were first known to have symbolic meanings, which opened up the gift-giving to friends on this day. While these meanings have changed quite a bit over the years, Red Roses have remained a constant for the meaning of LOVE--or extreme LIKE:) Red Roses.
Red Roses with Baby's Breath
The most popular choice for celebrating Friendship is Yellow Roses.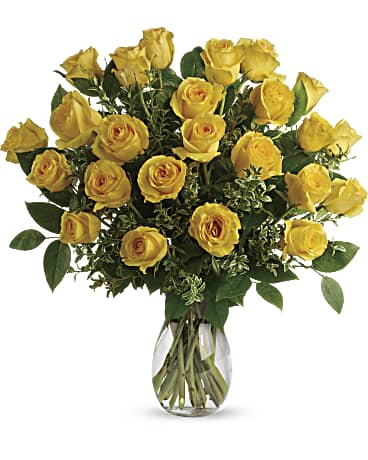 Say Yellow
If it's more than friendship, Pink Roses are a safe "in-between" color if you are not sure about the Red. You might be saying, "I really like her, or I think I love her, but I am not sure if she feels the same". Pink Roses are considered a romantic Valentine's Color, but not over the top if you don't have a full green light for the Red! These say "Happy Valentine's Day".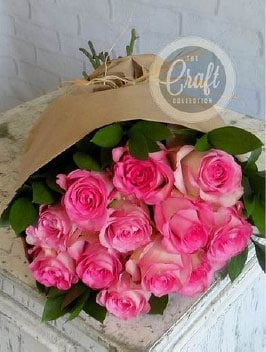 Pink Roses Wrapped
Our Romantic Collection
One step up from all pink: You have a budding romance--not too serious, but she is your Valentine at the moment. You feel you shouldn't overwhelm her or go overboard. These are super sweet, thoughtful and romantic gifts for Valentine's Day.
What if you DO want to WOW her at Valentine's Day--show everyone in her office what a great guy you are? She is your soulmate, your one and only. Here are some "sweep her off her feet" arrangements.
These definitely say "I Love You", "I Will Love You Forever", "You're All I Need".....you get the point:). Whatever you need to say to her, we have something that will go perfectly with your card message. We are here to help you decide. Just call the shop and talk to one of our lovely staff members, or click here to view our full gallery.