The Top 10 Summer Wedding Flowers: A Practical Guide By Flora


When choosing your Summer Wedding Flowers, you can have both the practical AND beautiful, though some flowers hold up better--even in the heat--than others. We have rated these 10 flowers on Availability, Price and their performance in the Summer Season. We deliver weddings in the hottest regions of the country, and have proven the following 10 popular wedding flowers hold up the best in June, July and August:
Peonies: Score of 4.3
- Availability (2):
Peonies are more easily accessible in April, May and June. This is when the prices will be the lowest. If they are ordered outside the season, they would come from outside the U.S, making them more expensive. especially with specific colors needed. Alaska is sometimes an option from June-September. This is, by far, the most expensive option, but the flower heads are much larger. If Peonies are temporarily unavailable, the Garden Rose, an excellent substitute with over 150 different varieties, has a very similar look in floral design work.
- Price (2):
Prices of Peonies vary based on demand, the weather, and the season of the place of origin.
They run anywhere from $8-10/stem.
If you love these flowers and need them in your wedding, the best way to save is to ask your florist to buy a whole box and use them throughout the decor. This is a great money-saving tip for any wedding flower on the expensive side.
- How they hold up (9):
These flowers do very well in the heat, especially when they have a water source. They hold up in hand-tied bouquets & arbor flowers, and all kinds of arrangements--even outdoors.
When using outdoors in summer without a water source, they should be placed outdoors nearest to the event start time.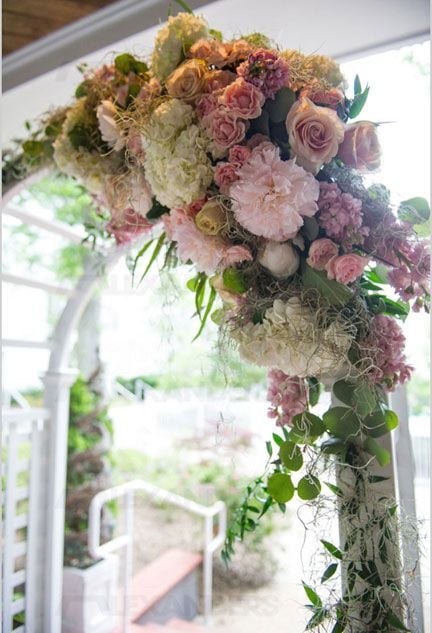 More Arbors with Peonies
2) Mini Green Hydrangeas: Score of 9.3
- Availability (10 ):
Can be found ALL year-round. These are a mini-version of the much larger green Hydrangea. They are a great neutralizer of color. This shade of lime green is widely used to break up or accentuate deeper colors so they pop.
- Price (8):
Prices of mini Green Hydrangeas are fairly stable throughout the year and cost about $4-$6/stem. These flowers are super easy to buy in bulk and be used throughout the decor of any wedding.
- How they hold up (10):
Mini Green Hydrangeas hold up excellent in hot weather, even out of water. We use these blooms, or pieces of the blooms in everything from corsages, boutonnieres, bouquets, loose blooms on the food table.... The possibilities are endless. It's quite versatile.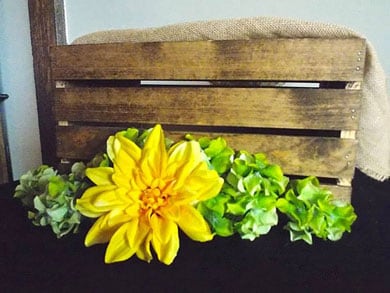 Mini Green Hydrangea blooms
3) Tropical Flowers: Score of 8
- Availability (10):
Many varieties fall under this category and most all tropical flowers would be recommended for Summer weddings. To name a few: Dendrobium Orchids, Cymbidium Orchids, Birds of Paradise, Ginger, Anthurium and Protea.
These are all available in summer, and also in other seasons outside of June, July and August.
Price (4):
Tropical flowers range from $6-$14.50/stem. The variety best purchased in bulk boxes from your florist will be the Orchids.
Dendrobiums usually come in 60-stem boxes, and Cymbidiums 4-6 stems, with about 17 blooms on each stem.
How they hold up (10):
Since these flowers are raised in a tropical climate, typically Hawaii or points in South America, they do very well in the heat of the summer in the U.S. They are long-lasting and many of the different varieties don't need water for many hours at a time -- as long as they were properly hydrated by the florist upon arrival.
4) Calla Lilies: Score of 9
- Availability (10):
Calla Lilies come in large and Mini. White and some other colors are available year-round. Large Callas also come in lime green and yellow.
Mini-Callas come in many other colors. The most popular for wedding flowers are: Mango (orange), Picasso (white w/ purple edge), Deep Purple (Eggplant), yellow (Sunrise), pink (Garnet Glow), purple (Purple Heart), and black Mini-Callas (Odessa).
Price (7):
Price-wise, both sizes of Callas are fairly comparable. They cost between $6-9/stem, depending on the season.
While they are available year-round, certain colors are more expensive when they are higher in demand, such as Mango (orange) mini-callas cost more in the fall since it is a fall color and widely-ordered.
Growers' costs always rise when they have to produce a large amount in a shorter period of time. Both sizes of Callas can be purchased in bulk boxes by your florist, which can save a significant amount of money for these elegant and hardy flowers.
- How they hold up (10):
- Both sizes of Calla Lilies hold up well in the heat. They do well out of water in corsage, boutonniere, and hand-tied bouquet work, as long as they are properly hydrated by the florist upon arrival.
Sunflowers: Score of 9.7
- Availability (10):
Sunflowers come in Mini-size, Medium and Large, and are generally available year-round; however they look their best in Summer and Fall. Most Florists in the U.S. can access locally-grown Sunflowers in the Summer Season.
Price (9):
Sunflowers range in price from $3.50/stem to $12/stem, depending on how large they are. They are high impact flowers, so no matter what you spend on the different sizes, we don't need as many in each arrangement due to their focal value, so a very cost-effective flower.
How they hold up (10):
They are extremely hardy Summer wedding flowers.They do well without a water source, even in the heat. They are very popular in bouquets, boutonnieres, arbor flowers, loose stems on the food table and table centerpieces. These rate a 10 in our book for durability in summer heat.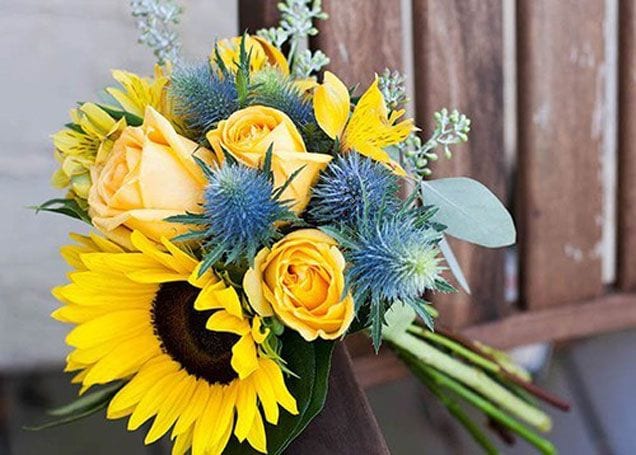 Wedding Bouquet of Sunflowers
6) Stock Flower: Score of 8.3
- Availability (9):
Stock Flower comes in a variety of colors: Plum, Lavender, Purple, Peach, White, Ivory/yellow, Fucshia, blush pink, and white, and is available year-round;
- Price (7):
Stock runs around $3.50/stem;
- How they hold up (9):
This flower, when properly hydrated by the florist, is a hardy option on a hot day. They work well in hand-tied bouquets, arbor pieces-even without a water source, aisle markers, and of course table centerpieces and other arrangements.
Billy Balls: Score of 10
- Availability (10):
Also known as Craspedia, these "golf-ball-like" flowers are extremely long-lasting. They are available year-round and offer a fun and bright pop of color in many types of arrangements.
- Price (10):
Billy Balls are fairly inexpensive. When purchased in smaller quantities, they cost $2.50/stem. They are available in bulk boxes, which lowers their price significantly.
- How they hold up (10):
They are easy to use in very hot weather, and work well in bouquets, centerpieces, boutonnieres and corsages. They need very little water.
Roses: Score 7.7
- Availability (10):
Roses are available year-round, and come in more colors than we can list here. The main colors used in weddings are: White, Light Pink, Hot Pink, Yellow, Lavender, Red, Peach, and Cream. There are hundreds more that are varying shades of the main colors, in addition to variegated or bi-color Roses.
- Price (7):
They cost around $3.50/stem, but can be easily purchased in bulk to significantly reduce the cost. Roses are easy to use throughout a wedding if a box or more must be purchased for budgetary concerns;
- How they hold up (6):
Roses vary by variety with regard to how quickly or easily they open. This is an important item to discuss with your Florist to ensure your expectations are met. For example, some varieties open very quickly in hot temperatures. If you do not wish to have very open Roses in your wedding, this needs to be considered when choosing the variety of the Rose.
All in all, Roses work well in the summer, as long as they do not spend prolonged periods without a water source in the hot sun. They are widely used for Boutonnieres, Corsages, Hand-tied bouquets, Arbor Pieces, Aisle Flowers, and all kinds of other arrangements.
Stargazer Lilies: Score of 7.3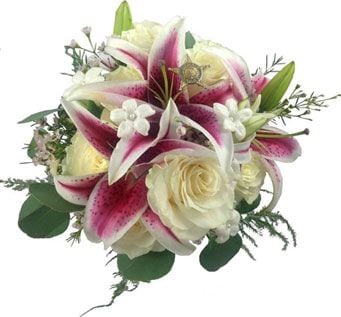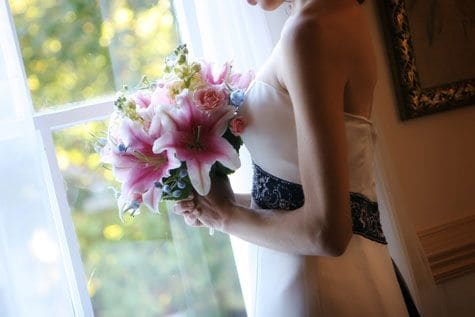 Stargazer Lily Bouquets
- Availability (10):
Stargazers are available year-round and come in varied shades of pink from lighter pink to dark Fucshia. They also come in pure white. There is a smaller variety called Starfighter. They look the same, only smaller.
- Price (5):
They cost $6.50-$8.50/stem, depending on their size.
- How they hold up (7):
Stargazer Lilies are surprisingly hardy flowers to use in wedding work. Even in hot weather, they will easily last the day, as long as they don't spend prolonged periods out of water.
They work great in hand-tied bouquets, as arbor flowers, aisle flowers and of course in table centerpieces and other types of arrangements.
10) Queen Anne's Lace: Score of 8.7
- Availability (9):
Queen Anne's Lace is mostly available, and looks it's best in Summer.
- Price (9):
It costs $2.50-$3.50/stem.
- How they hold up (8):
Queen Anne's is a pretty, feminine filler flower that adds a light and wispy look to wedding party bouquets, centerpieces, corsages and boutonnieres. It holds up well in the heat since it is native to the South.
Some of our ratings on these Summer Wedding Flowers may have surprised you. For example, many of you may not have ever even heard of the flower Rated a PERFECT 10 in this blog, The Billy Ball (Craspedia). This flower is an under-rated flower for sure in the wedding industry. It's not a favorite among the more traditional crowd, as it does have a contemporary flair; however any skilled floral designer can use this flower effectively in a traditional design. If we were to rate the Billy Ball on popularity, it would not even fall in the top 10.
Conversely, the Peony is the most popular, most-requested wedding flower at most florists around the U.S., but it comes in dead-last at a 4.3 on our scale measuring Availability, Price and Durability. While Peonies hold up well in the heat, and does not have a low rating there, the availability and fluctuating prices can present many challenges when choosing Summer Wedding Flowers.
The Stargazer Lily, also a well-known flower with wedding clients, rates a 7.3 on our list for Availability, Price, and Durability. Stargazers are great for a Summer Wedding Flower, due to its vibrant color, and high-impact focal value, but the price of just one stem can sometimes be a budget-buster if you use them throughout the floral decor. Still, the Stargazer is the very first flower requested for a Hot Pink, Fucshia, or Burgundy theme. We hope our Blog, with the ratings has been helpful to you when choosing your summer wedding flowers. In the end, the decision should be made based on what will be most important for you. For some, this can be a difficult thing to manage. Remember, your local florist is an expert, and has helped many wedding clients before you with the same questions. Their job is to help you navigate this and ensure that your flowers are exactly what you need for your big day.
If you would like to learn more about flowers for your wedding, or to book a free consult, email us at: events@northraleighflorist.com. Happy Wedding Planning!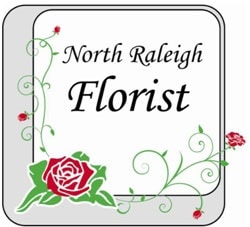 (919) 847-3381
https://www.northraleighfloristinc.com