Sending Mother's Day Flowers Out of State
Mother's Day, as we know it in the United States, is a holiday observed on the second Sunday in May that celebrates women in the role of mother, their accomplishments, and their trials and tribulations. It's a day to thank them for all they do. Over the last few decades, many Americans have started moving out of state, or even out of the country for work. This distance leads to families only seeing one another a few times a year. If you can't be with your mom, grandmother, female caregiver or other special lady in your life this Mother's Day, you can still send a beautiful gift to show your appreciation.
Local florists subscribe to networks with other florists that allows them to work together and communicate to create quality products consistent with an original design around the country and the world. These programs allow the consumer to order flowers being delivered out of town or out of state with their local florist. The local florist takes care of all the logistics. This type of order is referred to as a wire-out. There is a small charge for the service, but it is quite reasonable as compared to 800#'s. These are generally call centers pretending to be florists. The local florist will ALWAYS tell you how much the arrangement will be in the end, once it gets wired to the other florist. Florists work together in these networks and are transparent about their pricing for all products. When you order wire-out flowers with a local florist, they will choose the florist at the time of the order that most closely matches the order and the budget, as well as location. Our networks are kept up-to-date so we have the most accurate information about the florist we are trusting with your order. If a phone call is needed to ask more questions, we always take the time to do that. Our goal is always to invest in a long-term and successful relationship with you, so your happiness is our main concern.
How do you know you are calling a local florist? The local florist will ALWAYS have a local address listed on google. There will be no question that it is local. If there is only an 800 number, it is NOT a local florist, but as it is known in the industry, an "order-gatherer". The order-gatherer simply takes the order, giving deep discounts like free delivery or significantly slashed pricing on arrangements, like this: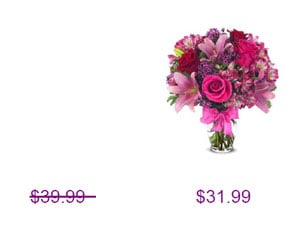 They make this up in the fees they charge (typically between $15 and $35 to the extreme). These fees are then deducted from the total you have paid as a customer BEFORE they, in turn, wire it to a real, local florist. That local florist has to decide whether or not to accept the order. If they do not feel it is enough money to complete the order as pictured, they will refuse it or request more funds. Often-times, this request is denied and the order gets bounced around from florist to florist in the hopes someone will accept it. When no one does, it doesn't ever get delivered. This happens more than you'd expect. Do what you can to ensure your delivery gets made and that the end-product will be a realistic representation of what you have selected. Whether you are celebrating your own mother this Mother's Day, a grandmother, a woman who has cared for you, or the mother of your children, they will all feel loved and appreciated to know you were thinking of them on this special day.
To place a wire-out or a local order, please view our Website or call us at (919) 694-1600. To guarantee your Mother's Day Wire-out delivery by Mother's Day, it is best to order by the Wednesday before for U.S. orders and Tuesday for out of country orders.
---
Celebration at Six Forks
7457 Six Forks Rd.
Raleigh, NC 27615
(919) 847-3381
www.northraleighflorist.com