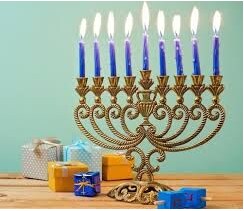 The first night of Hanukkah begins on Sunday, December 22 after sundown. Across the world, there are nearly 14 million people of Jewish descent, and many of these people will recognize and celebrate all 8 nights. Hanukkah Celebrations vary, depending on what sect of Judaism is being observed, and also the region of the country. The one thing they ALL have in common is that one candle of a 9-candle Menorah is lit each night after sundown to celebrate the Festival of Lights. The center candle is called the Shamash -- this is the helper candle that lights each one. By the 8th night of Hanukkah, all the candles are lit. It is customary that Menorahs are placed in front of a window of a Jewish home, and that they be lit right to left from the first night onward. From the second night onward, the newest candle is always lit first. Like Shabbat candles (candles lit on the Jewish Sabbath), the candles of a Menorah are intended to stay lit until they burn down naturally.

The Festival of Lights began when the Jewish Nation was re-dedicating it's Temple, following their victory over their Syrian captors. They discovered they only had enough oil to light their Temple Menorah for one night. They prayed that it would just last until new oil was produced. It lasted 8 nights! This is when Hanukkah was born, and also the phrase "Miracle of Hanukkah".
In general, Hanukkah is not considered to be a major holiday, or even among the holiest of days. Since it usually falls around Christmas time or in the month of December, it tends to attract more attention. One thing to remember is that it is NOT the Jewish Christmas. Some families do give small gifts for 8 nights; however this has no religious symbolism. Giving gifts is meant to enhance Jewish identity and celebrate Jewish culture during a very hectic and commercialized time of year. Families get together for dinner, play driedel games and eat foods traditionally-cooked in oil like potato Latkes and sufganiot (a deep-fried donut, essentially). It is customary to wish someone who is Jewish a Happy Hanukkah during the 8 days. If you have a gift-giving relationship with them, sending them flowers is certainly appropriate and much appreciated. Whites, silvers and blues are the best colors, steering away from reds, greens and Christmas-y greenery. Here are some options below of our most popular Hanukkah arrangements during this time of year.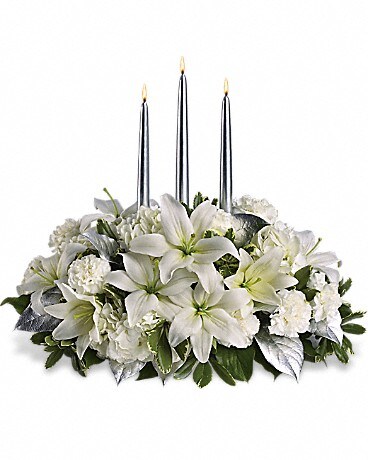 Silver Elegance Centerpiece
with Silver Candles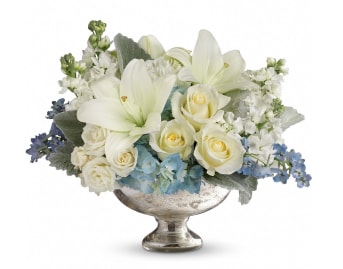 Elegant Affair Centerpiece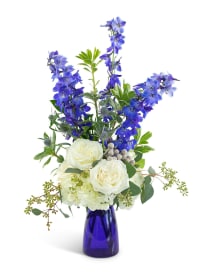 Gift of Hanukkah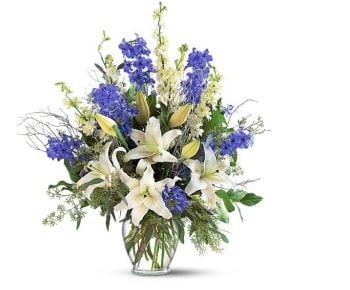 Sapphire Miracle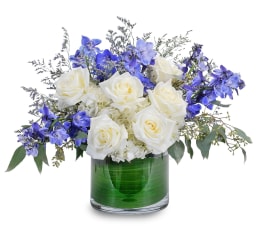 Blue Frost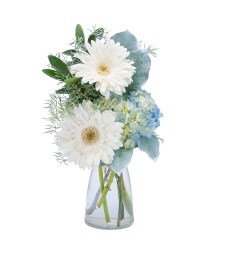 Blue Mist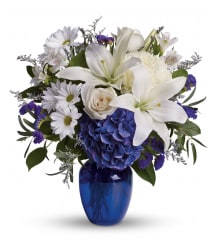 Beautiful In Blue
If we can help you send a Happy Hanukkah gift, just call the shop or click here to order online. We can also customize a gift to suit your taste and budget. Just ask! We wish all of our Jewish customers a Happy Hanukkah!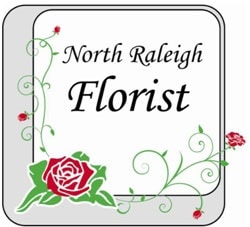 Celebration Shopping Center
7457 Six Forks Rd
Raleigh, NC 27615
919-847-3381
www.northraleighflorist.com