BOSS'S DAY
OCTOBER 16, 2019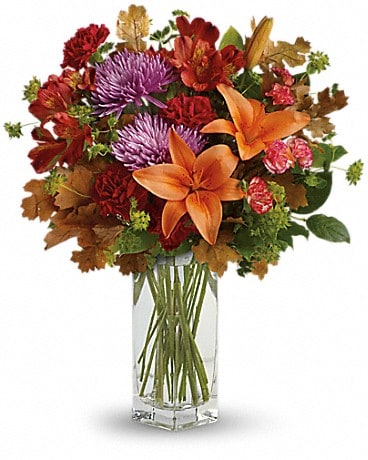 Take the Lead and Celebrate Boss's Day With Flowers
Boss's Day is a relatively recent development. It originated in 1958 with Patricia Bays Haroski, a secretary for State Farm Insurance Company, where she worked for her father. She thought a day should be reserved for employees to thank their bosses for being kind and fair throughout the year. In Ms. Haroski's case, her boss was also her father, so when she registered the event with the U.S. Chamber of Commerce, she chose Oct. 16 – her father's birthday – as the date for when employees across the country would express appreciation for their bosses.
Tips To Remember
If you're thinking of a way to thank your own boss, you need not be intimidated. A floral arrangement is an excellent option to consider. Not only will your thoughtfulness impress any boss, male or female, but a beautiful bouquet of flowers is often just the right gift when others seem either too extravagant or insufficient. But before you pick out the perfect arrangement, here are some things to consider:


The right flowers for the right space
If your boss has limited desktop space or likes to work in an uncluttered setting, choose a compact arrangement, from our desktop pieces such as Urban Renewal , or Bloom with Brilliance. These are both appropriate for both masculine and feminine recipients.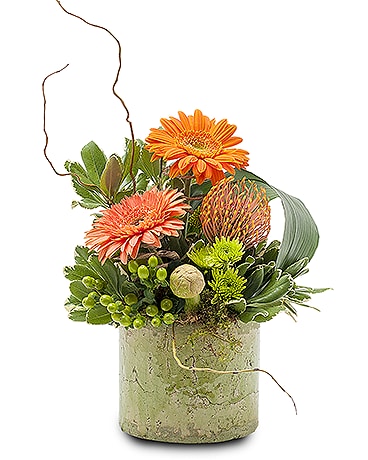 Orange/Peach Gerbera Daisies, Orange Pincushion Protea, green Hypericum Berries, green Chrysanthemums, and contemporary accents.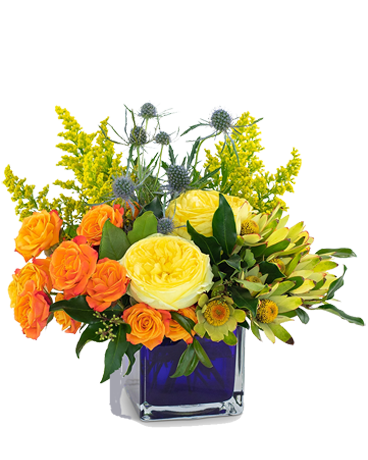 Bright yellow Roses, orange Spray Roses, Thistle, Solidago, and Alstroemeria
For those with room to spare
For the boss who has more desk or office space, or who just prefers a larger display, we suggest considering our taller arrangements like Grand Gerbera, or Beautiful in Blue.
Not sure if your Boss likes Flowers? In this case, plants are a great option!
We carry a wide variety of indoor plants that are easy-care, with lower light requirements, such as our Living Garden Basket. This basket typically comes with a seasonal blooming plant; however we can easily replace the bloomer with a green plant when needed. Additionally, this plant basket can be made in almost any size to suit your budget. Another popular and easy choice is our Peace Lily plant (Spathiphylum). This also comes in several sizes and prices, and our floral consultants can help!
When you need to consider a non-Floral option:
Food Baskets are great if you are not sure how your boss will feel about flowers or a live plant. Our Cheese and Cracker Delight is an all-time favorite among customers in our gourmet food collection. If you are sending to someone who you know is health-conscious, our Stay Healthy Basket is just the thing! Of course, we can customize a gift basket to suit your recipient's taste AND your budget. Just call the store and talk to our staff.
For the sports fan:
Do you have a boss who is a proud alumnus of one of the Triangle's outstanding universities? If so, you may find an arrangement such as Duke Pride, or the Go Pack Snack Bucket worth a look. With a few days notice, we can customize a sports-themed gift from our other local schools such as UNC or ECU. Just talk with our staff and they will be happy to accommodate.